RENOVATION OF OLD AEROSPACE BUILDINGS
Renovation
Building Interior
Built-up Area
25,000 sqft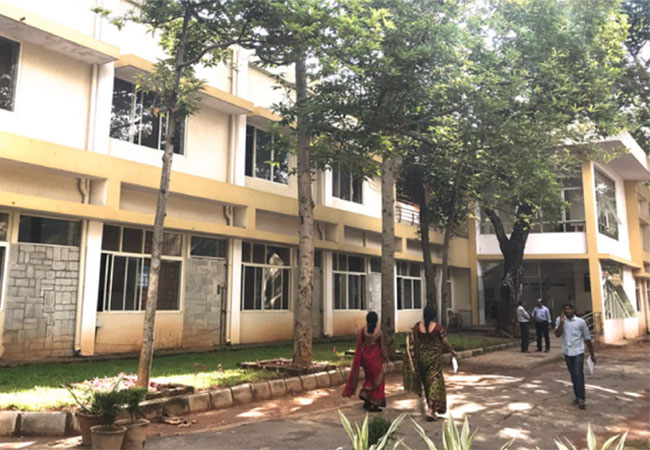 Client requirement
The challenge was to accommodate 4 different Administrative & Finance departments at IISc into a 40-year-old building, previously a lab/ workshop for the aeronautics department. The space needed to incorporate each departments' requirements for large volume of file storage areas, cabins, staff cubicles, pantry, semi-open dining with appropriate services.
Some existing rooms were to be repaired and retained as officer cabins. There were 2 available open terraces and a mandate that only one can be covered however without casting a RCC slab.
Our Approach
Our first step was to understand the existing construction.
Being a shared space earlier, it was built ad-hoc over 3-4 phases to meet department requirements
The labs/ workshop halls had heavy duty industrial floors and trenches across the 14,000 sq. ft. footprint
The multiple external staircases and entrances to labs did not conform to a particular style, nor did measurements of fenestrations, or the varied floor levels and service trenches criss-crossing the spaces
A single flowering tree between the 2 wings of the building to be addressed
Keeping in mind the above parameters and client requirements for the new users we proposed –
Congruency – Build a glass walled structure that unifies the varied floor levels. Remove all staircases, ad-hoc extensions and create a single shared lobby with security, staircase and lift. Resize windows and openings into similar proportions ensuring bright day lighting.
Retain and repurpose – Build an accessible central courtyard around the tree and create the dining space on the first floor abutting the courtyard to help break the 'well-like' effect in the courtyard
Stability – A sub-structure to support the proposed upper level compactors while retaining as many existing internal walls as possible.
Functionality – Centrally located common rest rooms that are easily accessible, yet not obvious.
Design – A spacious, Spartan and functional interior that reflects the institutional nature of IISc.