COFFEE GUEST HOUSE
Residential
Building Interior
Client
Soundranayagan Family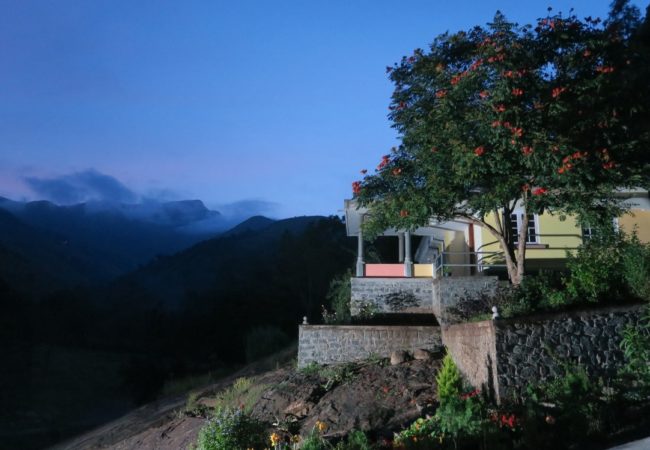 Client requirement
The client intent was to run a homestay on their scenic property near Kodaikanal. The vision was to build atop a monolithic rock overlooking a perennial stream at the property for this purpose. A homestay that celebrates the beauty of its setting,
rustic yet contemporary; minimal, yet youthful was the required aesthetic. The client was open to renovating and expanding the existing "cottage" or demolishing and rebuilding it.
Our Approach
With this open-ended brief, we commenced our design keeping budgets and the capability of the local execution team in mind.
After numerous discussions, we concluded to retain as much as possible of the 10-year-old "cottage". The perennial stream in the south, hills in the east and valley in the east, an upward slope covered with coffee bushes in the north all surround this monolithic rock.
We planned our spaces to maximise the light and views by proposing large grill-less windows. Rooms were enlarged by removing load-bearing walls. Steel columns and beams were inserted to support the slab and walls above. A view of the coffee plantation was integrated using a double-height glass wall with large pivoted windows along the staircase on the north. New large bedrooms with corner bay windows were created as perfect corners to lounge in. Some existing 10'x10′ rooms were converted to bathrooms with large fenestrations that bring in the outdoors, other rooms converted to dress rooms offer an intended luxury for city-dwellers on a getaway.
A large central balcony extending seamlessly from the hall is cantilevered over the rock to maximise the panoramic view. Another feature to soak in the surrounding is a proposed outdoor bed swing in the balcony.
Minimalistic and industrial finishes is the proposed aesthetic. The interior material palette includes exposed steel, raw cement finishes contrasting with exposed and painted brick, along with some wood to add warmth to the spaces.